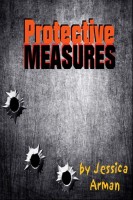 YWW writer Jessica Arman is in our Monday Spotlight this week. Jessica lives on a farm in small town
Michigan
. She grew up working outside and caring for animals. At present she is a student at
Lake Superior
University
with a major in Fisheries and Wildlife Management. She hopes to attend
Colorado
Mountain
College
and work toward becoming a veterinary technician.
Every other Thursday Jessica attends the Pickford Community Library's Young Writers Workshop to enhance her writing skills. She has been writing short stories her whole life, basing them on a bent reality of everyday events.
As Jessica grew so did her writing, the stories became more realistic. She writes to do the things that will never happen.
Jessica has a short story
Terror Bond
published in the
2012-2013 Pickford Young Writers Anthology of Short Stories and Poetry
. She published her first sci-fi thriller
Protective Measures
with JLB
Creatives
Publishing in May of 2014.
Jessica's dream is to open an animal rehabilitation center, but for now she will continue to write her many other lives.
Download Jessica Arman's novella
Protective Measures
and the Pickford Young Writers Anthologies on
Smashwords
FREE today!
About Protective Measures:
Imagine being stuck in school forever. Living there, working there, and eating every meal there. That's what Taryn and every other kid from her town has to do. What they don't know is that this so-called slave school is run by Taryn's father. This secret will lead to heartbreak and despair. Freedom will be
had
, but not without a heavy cost.
Excerpt:
Before she even reached the classroom, she knew something was wrong. The hallway was too empty and too quiet. She walked into the room to find most of the teachers present, and at the very back stood the master, Alloy. He was short and heavyset. His black suit fit like a second skin. He had bleached blond, slicked-back hair, and his face was always tight and

emotionless

. Taryn knew this could not end well. She put on her best "I don't care" face and stood in front of the assembly.
"Do you know why you're here, Ms.

Bicks

?" Alloy asked.
"I left class without being dismissed. Since when is that something you get involved in?"
"That is one reason you are here, but there are many more. I have been keeping my eye on you and have found that you are a leader for some of these students—too much of a leader. They seem to think that when you are around they can get away with more. Not to mention your constant misbehavior anyway. We are going to put a stop to that." Alloy said. He grabbed the intercom

mic

and made the announcement, "All students must now report to the auditorium. Please sit

in

your rank order, with the highest in the front." He clicked off the intercom and faced Taryn again.
"Now, Taryn if you would follow me to the auditorium, we can get this over with and put you back in your place." Alloy's face sported a devilish grin.
Learn more about the Pickford Community Library's Young Writers Workshop here.
Learn more about JLB

Creatives

Publishing here. We are open for submissions of most

genre

.