Journey To Publication™
is a comprehensive writing curriculum that will take writing enthusiasts ages 12 is a NOVICE and an ADVANCED curriculum.
-112 on an adventurous journey from concept to completion of micro-fiction, essay, flash fiction, short story, or a novelette/novella. There
Journey To Publication™ i
s more than just learning the craft of writing. Yes, attending enthusiasts will be exposed to in depth basic creative writing skills, but in addition they will have the opportunity to participate in several highly interactive adventures (not all of the activities are writing), and be rewarded upon completion to name a few. Overseers will delight in being able to tailor the curriculum to meet the specific needs of their participating enthusiasts.
​
​
Journey To Publication™
was created, developed, and authored by your JLB Creatives Publishing Department Heads: CEO - author Janet Beasley, Senior Editor/author - Dar Bagby, Senior Financial Director/author - Jean E. Lane, Graphics Design Director/author Connie M. Thompson, and Media Director/author Elise VanCise. Together these outstanding literary enthusiasts hold a combined total of 100+ years in the industry.
Journey To Publication™
has been proven effective. Pickford Community Library's Young Writer's Workshop has using the curriculum over a period of three years. We are excited to be nearing publication of this one of a kind curriculum, a curriculum for aspiring authors who long to release the stories inside them.
See for yourself how well this program works by downloading one of the Pickford Community Libary's Young Writers Workshop Anthologies or the novela Protective Measures by Young Writer and JTP Enthusiast Jessica Arman. Just click
HERE
to download the anthology or novela for
FREE.
About Protective Measures by Jessica Arman
Imagine being stuck in school forever. Living there, working there, and eating every meal there. That's whathas to do. What they don't know is that this so-called slave school is run by Taryn's father. This secret will lead to heartbreak and despair. Freedom will be had, but not without a heavy cost.
Taryn and every other kid from her town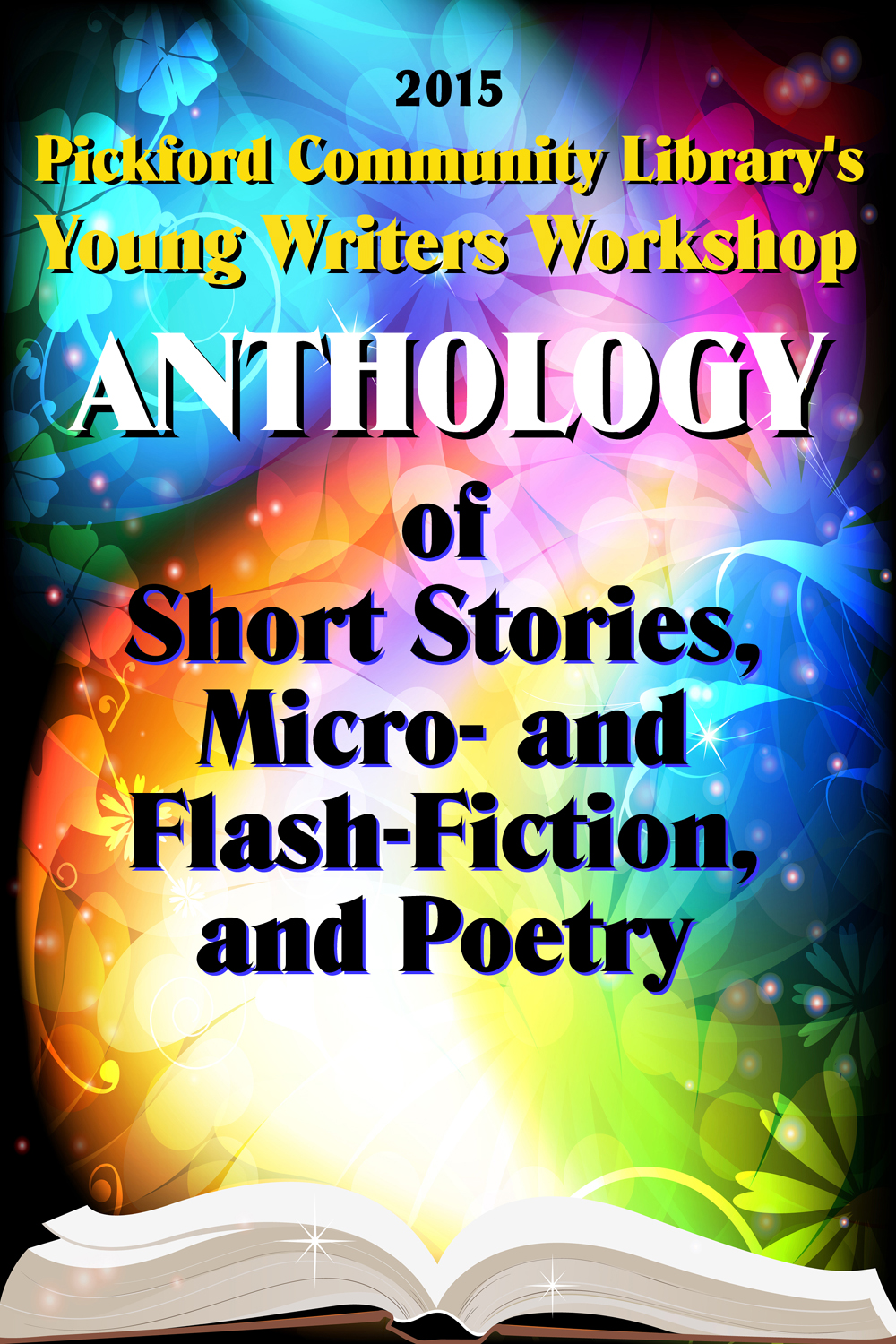 2015 Pickford Community Library's Young Writers Workshop Anthology of Short Stories, Micro- and Flash-Fiction, and Poetry
These stories and poems, written by extremely talented 6th through 11th graders, will delight you with their imaginative content and expert presentation. You'll find vampires, wolves, lovers, and more who will take you from one end of the emotional spectrum to the other. You will marvel at the way only a few words can express such an expanse of creativity by young writers who are on their way to becoming well-known authors. Find out for yourself by reading the offerings in our 2015 anthology.
Learn more about this all inclusive curriculum and career path by visiting
JourneytoPublication.com
For more about the Pickford Community Library Young Writers Workship visit
JLBCreatives.com
and see their page along with all of our fantastic authors and the adventures they have waiting for you.